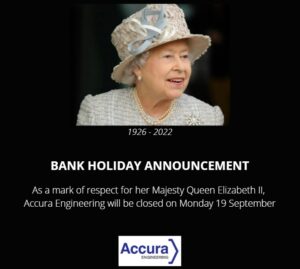 As a mark of respect for her Majesty Queen Elizabth II, Accura Engineering will be closed on Monday 19 September.
A message from our Chairman and CEO, Craig Wright:
"This is a very sad day for our country, families and employees/colleagues. The Queen Elizabeth has left a mark on all of our lives and leaves a fantastic legacy.  Over the coming days and weeks we will all feel an emptiness in the knowledge she is no longer with us.
Her values I know are also our values, in particular she led by example and always sought us all to do our best.
Many of our employees will be mourning her loss and I am sure you will show compassion and support.
I am sure it is only now will we truly start to appreciate what huge selfless service her majesty gave to our country and us its citizens.  
May she rest in peace.
God save our King! – who has an unprecedented job to follow in his mother's footsteps in hugely challenging times"