Accura Supply Limited are pleased to announce that, after many months of hard work and review of our processes we have attained the new ISO 9001:2015 audit standard and have been granted full qualification. Our efforts to gain ISO 9001:2015 quality standard was not just about obtaining "tick in the box" certification, it was about streamlining our processes in order to reduce risk, increase quality, be more efficient and most of all improve our customer satisfaction.  This achievement will benefit all aspects of Accura, including Accura Engineering.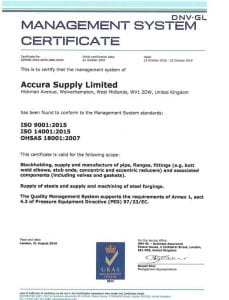 We hope over the coming months and years that Accura Supply Limited customers, suppliers and staff benefit from our ongoing efforts and that together we can achieve supply chain excellence through ongoing partnerships and the development of new opportunities.
 What is ISO 9001:2015?
"ISO 9001 helps organizations demonstrate to customers that they can offer products and services of consistently good quality. It also acts as a tool to streamline their processes and make them more efficient in their production process. Acting ISO Secretary-General Kevin McKinley explains: "ISO 9001 allows organizations to adapt to a changing world. It enhances an organization's ability to satisfy its customers and provides a coherent foundation for growth and sustained success."  www.ISO.org
 Commenting on the achievement, Ian Austin (Accura Supply MD) said, "Adopting this important international standard was a strategic choice for Accura Supply Limited To quote the standard "it will improve our overall performance and provide a sound basis for sustainable development initiatives". Accura Supply already had many robust processes prior to commencement of the certification process, however, small incremental improvements had to be made in the area of inspection and reporting, risks and opportunities, manufacturing controls and design control. All are now fully implemented and are sufficiently embedded into the daily activites of the organisation. Customers will benefit the most through improved consistency of products and services and enhanced overall satisfaction. Achieving this certification will open doors for Accura Supply and in turn secure its future as a premium engineering/project management force".
 David Williams (Accura Group CEO) added, "I would like to congratulate Ian and his team on the successful achievement of this new standard which has been made possible through their hard work, dedication and a commitment to be better.
The Accura Supply processes and systems are now exceptional and ensure we deliver the best possible products and services to our valued clients both new and established.
As with all standards, what has been achieved is a beginning and something to develop and improve over time. None of this will be possible without the full engagement and support of our Supply employees who I'd like to recognise too for their ongoing efforts and support.
With the addition of ISO 9001:2015 Accura Supply Limited has demonstrated its desire to achieve future expansion through excellence and continual improvement".
We hope you have found this article useful, you may also like to read our previous blog on the appointment of Wayne Fraser into the Group.