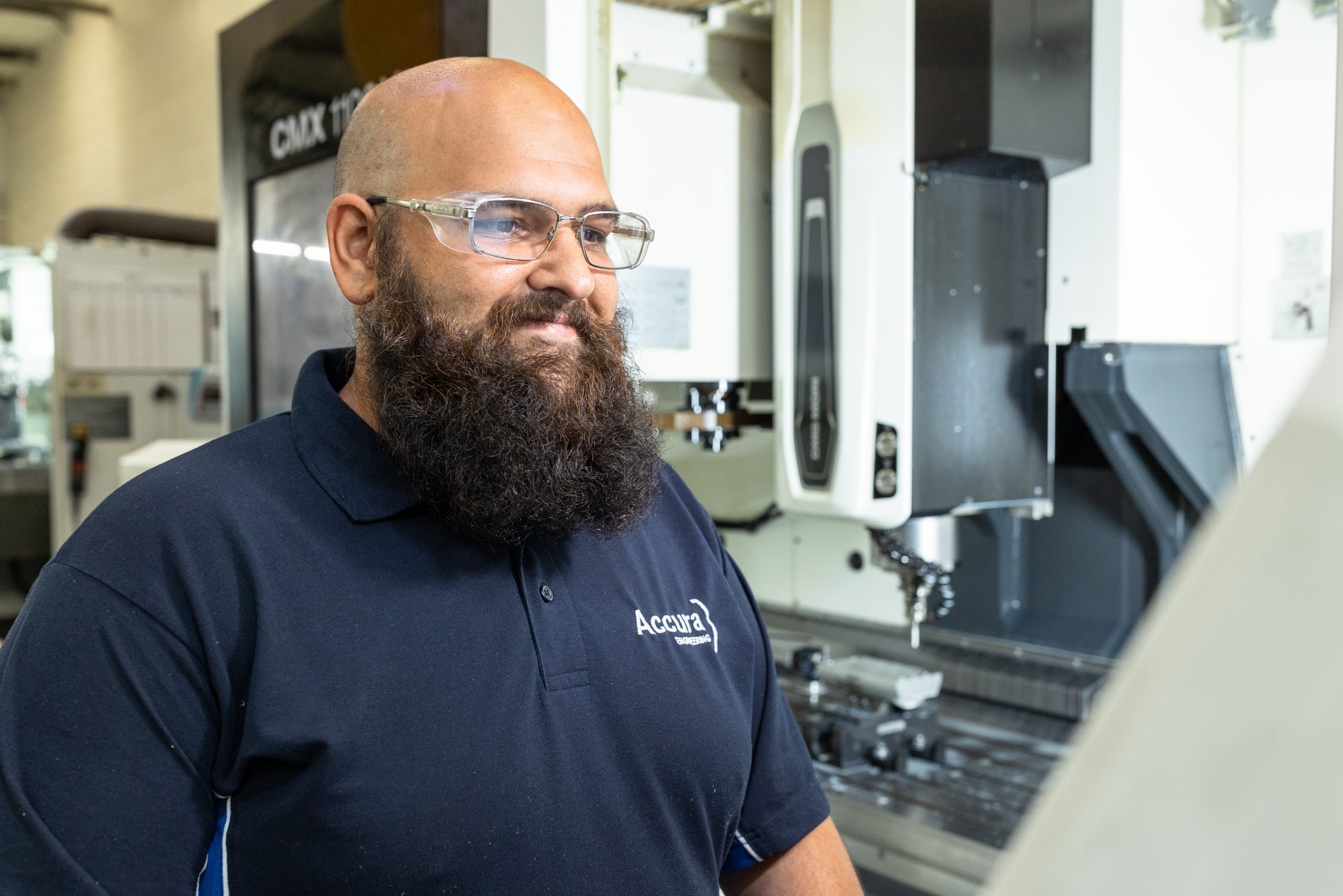 Accura Engineering has recently completed a twelve-month project for 3T AM, a world-leading provider of metal Additive Manufacturing (AM) and 3D Printing services, to develop new techniques for post-processing of AM components. solving an industry-wide problem. This innovative process has already resulted in the delivery of hundreds of unique 3D Printed components for a space flight application and has opened up new markets for Accura, both within the UK and internationally.
This complex project involved post-print machining over 200 unique components, manufactured using the latest Additive Manufacturing techniques. The delicate aluminium components, destined for a Space application, required the machining of critical faces and interfacing features; due to the unique design of each component, this was a challenging project that required deep engineering expertise.
Accura developed a novel work-holding system, allowing us to set-up, complete multiple machining operations, and inspect each part quickly and efficiently. This modular design provided a cost-effective method of rapidly changing the fixturing to suit each unique component, without requiring hundreds of customised fixtures to be manufactured. Once located, Accura machined the components using state-of-the-art 5-axis machining capability and conducting detailed inspections. To support this project, Accura invested in a new DMG MORI CMX-70U 5-axis machining centre and established a dedicated manufacturing cell, ensuring consistent flow of product and quality control throughout the facility.
Nicky Hill, Commercial Director of Accura Engineering, said "Although Additive Manufacturing famously allows engineers to 'print anything', the design freedom can create many challenges for parts that require post-processing using conventional machining. Accura's expertise, developed over years of precision-machining bespoke components for high-reliability industries, was essential to this project. We are proud to be able to support the next generation of manufacturing technologies by working closely with the AM community to develop pragmatic solutions to their manufacturing challenges".
Building on the success of this project, Accura Engineering are continuing to develop post-processing methods for AM components to develop further cost-saving solutions for our customers.
She concluded "We believe there is real scope to further reduce the cost of AM components, through intelligent engineering solutions. We invite any MAA members who are facing similar challenges with the post-processing of AM parts to speak with us to discuss how we could support them to achieve a better manufacturing solution".